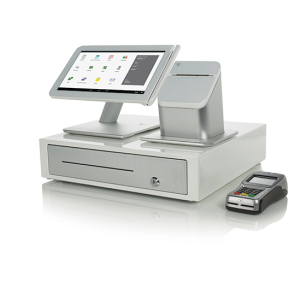 Clover Station
Clover replaces your cash register, payment terminal, receipt printer, and barcode scanner with an integrated suite of products. Accept credit cards, EMV, and
Apple Pay.
Get to know your business and your customers better with reports you can run at work or from home and applications that streamline your workload.
Clover Mobile
Clover Mobile is much more than just a credit card reader. You get all the business-building features that Clover is known for, the ability to add optional applications to customize your system, and cloud-based data storage.
Clover Mini
Ability to accept multiple credit and debit payment types
Swipe (MSR)
EMV (chip + PIN; chip + signature)
Contactless (including Apple Pay)
PIN Debit
Manage tips and pre-auth tabs and cards
On-screen signature capture
Built-in printer
Front-facing camera
Barcode and QR code reading (using front-facing camera)
2 connectivity options: Ethernet/Wi-Fi or Ethernet/Wi-Fi/3G
7″ Antimicrobial Corning® Gorilla® Glass display screen
Multiple layers of security: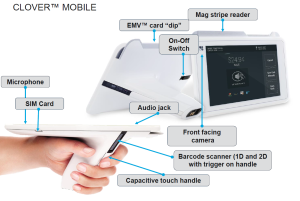 Click to see large image.