Procharge Mobile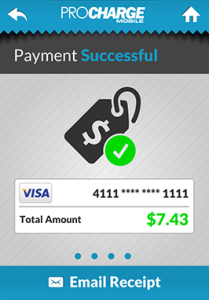 Easily accept credit, debit and gift card payments on-the-go and never miss another sale! With ProCharge® Mobile, you can process payments, refund customers and reconcile sales instantaneously on your mobile device. Simply download the FREE ProCharge Mobile App and setup a merchant account. You'll receive a FREE swiper and can start accepting payments instantly!
Procharge Payment Gateway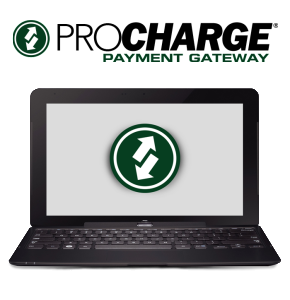 Managing your business has never been easier!
Imagine – a comprehensive merchant account solution so simplified and easy to manage, you won't mind working on your day off! ProCharge® Payment Gateway is one of the most convenient merchant account tools available. With its all-inclusive functions and features, you won't know how you've managed without it!
ProCharge Payment Gateway quickly gets your business up and running with everything you need to process payments – straight from your web browser. Our user-friendly virtual terminal enables you to process refunds and gift card transactions, setup recurring billing and automatic e-invoicing, and view transaction history. You can also maintain and update customer accounts and billing details within seconds.
All ProCharge Platform applications automatically sync transaction data to ProCharge Payment Gateway, constantly providing real-time activity and account updates; for example, if you have five team members processing ProCharge Mobile transactions, the activity will automatically update in your payment gateway. You don't have to do a thing!
Procharge Plugin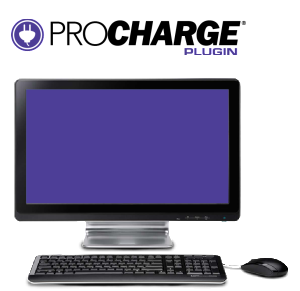 Start streamlining your merchant account today!
We understand that operating a successful business means managing difficulties and demands in a time efficient manner. And when payments and billing are involved, there's no room for error!  Fortunately, we've developed a real-time solution that integrates transaction processing and e-invoicing directly into your preferred accounting software – QuickBooks®!
ProCharge® Plugin streamlines your entire accounting process. Simply login to your existing QuickBooks® account and your transaction and billing data will automatically integrate – in real-time! You'll be able to manage batch processing, e-invoicing, recurring billing, and refunds directly through the accounting software. Additionally, all sensitive cardholder data is securely stored for future use, so you won't have to keep asking your customers for the same classified credit card information.
Unlike other accounting software plugins, we do not use expensive gateways or software programs to process transactions. ProCharge Plugin is fully integrated and can be used for any type of QuickBooks® user, including retail, MO/TO or ecommerce businesses.
Procharge Flyer: